Abercrombie is one of Astro Boy's human classmates, and Astro's friend in some series. He is usually a loudmouthed bully - especially in Tezuka's original manga - but he does try to do the right thing when the time comes. In Japanese, his name is Shibugaki, which is the name of a type of sour persimmon.
1980 series
Abercrombie is a regular character in the 1980 series, where he is named Alvin in the English dub. He is the son of a rich art-collecting businessman, and as a result, Alvin is very spoiled. He leads a small group of boys at Astro's school, with most of their antics being minor delinquency.
Alvin is anti-robot when Astro joins his class, and becomes especially angry with him when Astro doesn't vote for him in the class president election. However, Astro saves Alvin's life when he and his gang get stuck on a malfunctioning roller coaster, and Alvin becomes less rude to Astro over time.
2003 series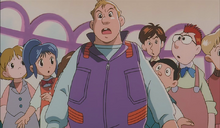 Abercrombie first appears in the episode "Into Thin Air", where he is initially very opposed to a robot going to a human school. He is rude and standoffish to Astro, but not long after, the two become friends. Abercrombie is less of a bully in this series, and is the misguided muscle of Astro's friend group.Abercrombie, Kennedy, Alejo, Denkou, and Astro make up the Sky Riders group.
He is a big fan of Rocket Ball, and avidly supports Kennedy's soccer team.
NOW! Comics series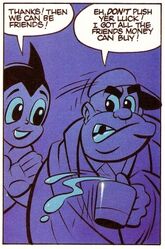 Abercrombie appears in the 1987 comic series as Archie Bargy, the son of a business tycoon. When Astro first meets Archie, he is an aggressive delinquent known for skipping classes and mugging other students. Archie is accidentally kidnapped by a robot created by Agent R, and when Astro rescues him, Archie becomes more open to being friends with a robot. When Astro goes into space in issue #16, Archie comes to wish Astro well, and gives Astro his "lucky can opener" as a good luck charm.