Duke Red is a reoccurring character in the Osamu Tezuka Star System. He is one of Tezuka's first characters, an arrogant and stylish man of shady authority. Duke Red often appears in various Astro Boy series as bureaucrats, military men, or politicians.
Appearance
Red's character design is very distinct; he has an arched nose that takes up a large portion of his face, a strong chin, and short but fluffy sweeping hair. His age varies quite often; he is portrayed anywhere between being a fresh-faced middle-aged man to a very old man with a bushy mustache.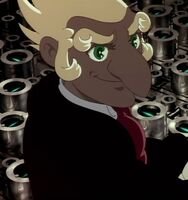 Duke Red first appeared as the lead villain in Tezuka's original Metropolis manga, where he is the head of an underground criminal group. He is responsible for commissioning an artificial human, and uses robot slave labor to develop weapons of chemical warfare. Since this manga, he has appeared most often as antagonist throughout Tezuka's works. Often, Red is in the role of a misguided father trying to protect his children with his best intentions; one particular example of this is his appearance in the 2001 film version of Metropolis. He is the adopted father of Marduk leader Rock, but neglects him in favour of the robotic reconstruction of his deceased daughter Tima.
2003 series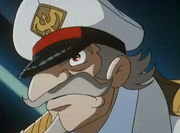 Duke Red appears as a robot-hating high level general. When his daughter
Hannah
becomes close friends with his GP4 service robot
Jake
, Red becomes disgusted with Jake and plans to have him transferred to harder labor. That night, Hannah falls down the stairs, and General Red immediately assumes Jake pushed her down the stairs. His ensuing court case against Jake causes a panic between humans and GP4 robots.
While Red loves his daughter and is extremely protective of her, he is so set in his hatred of robots that he doesn't believe Hannah that Jake is innocent. Red is a key player in the The Robotonia Incident, where he leads a siege of troops against Robotonia and the Blue Knight.
Astro Boy: Omega Factor
In the video game Astro Boy: Omega Factor, Duke Red appears as a pro-robot rights politician, counter to his role in the 2003 series. He is an outspoken supporter and ally to Astro in this series. His beloved daughter Nuka is secretly a robot with a secret connection to the Death Mask orbital platform. In the game, he is the polar opposite of Acetylene Lamp, whom he verbally clashes with.
NOW! Comics series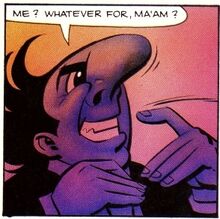 Duke Red also appears in the 1987 comic series as Taz Tamil, a member of the Institute of Science's board of directors. He is secretly conspiring with General Hawkins in an attempt to make himself the leader of the Institute. Tamil differs greatly from Red in personality; Tamil is skittish and cowardly, and sometimes too meek to take initiative.
In issue #6, it is shown that Tamil is married, and with two twin sons that look exactly like him.