Reno is an 11-year-old mechanic, former circus performer and, human boy who pretended to be a robot, to act in the Robot Circus with his family. He comes from the seaside town of Bella Notte. He based on the character Mamoru Murakami, who first appeared in the manga Magma Taishi.
Story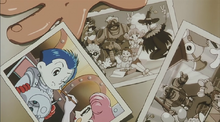 Reno was found as an abandoned baby in a junkyard and, was taken in by the robot circus performers. In the Japanese version, Reno describes his family unit as, "When I was little, I thought Cupcake was my mother, and that I had five fathers. And my number-one father was the ringmaster."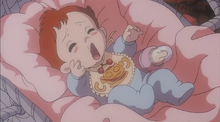 Reno's identity as a human is extremely top secret, as he and the circus are well aware that he would be taken away by authorities. Reno maintains living with his family while disguised as a robot acrobat.
The prospective mayor of Bella Notte, Gustaf, was extremely anti-robot and, dug up information on the Robot Circus. He then told the media that Reno was kidnapped by renegade robots and forced into slave labor, promising to have the robot circus members destroyed. Meanwhile, Professor Ochanomizu was given Reno's adoption papers by the ringmaster before he fled town. This officially made Ochanomizu Reno's legal guardian, but left Reno feeling like the circus abandoned him. However, after being reunited, Reno learned that his robotic family wanted him to go to Metro City and finally become a human. They saw him as having too much potential as a scientist to stay with the circus.
Reno now lives in Metro City at the Ministry of Science, where he studies robotics under the legal guardianship of Ochanomizu. He hopes to start his own business and become a successful scientist. His latest big creation is the robot dolphin Gideon.
Personality
Reno is energetic and outgoing and, tends to climb around or jump onto things using the acrobat skills he learned with the Robot Circus. He is a talented mechanic and inventor; he could easily repair his robotic family, and as a child, built small memory units and other gadgets. He has a great respect and rapport with robots due to his upbringing. He considers Astro to be his best friend.
Appearances
Reno appears only in the 2003 series, taking a primary role in the following episodes. They have been organized according to the original Japanese airing order.
11. Robot Circus
16. Robot Hunters
19. Robot Boy
22. The Legend of Tohron
31. Gideon
44. Into the Dragon's Lair
45. Night Before the Revolution
46. Robotonia
48. Journey to Tomorrow
49. Astro Reborn (cameo only)
50. The Final Battle
Gallery