Tetsuwan Atom (Super Famicom Game)  is a beat'm up video-game only released in Japan by Bandai's publisher Zamuse.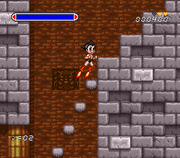 The game is a retelling of the 1952 manga with artworks based in the 1980 series (Uran and Kid Atlas are pretty notifiable).
In the story, Atom goes fighting several obstacles like evil robots and monsters.
Atom can charge his jets and fly temporary and even dash attacks while flying.
As for upgrades is possible to get extra heart tanks in order to improve the chances of the player, but they'll be always reduced to 3 hearts once a continue is used.
Atom cannot use built-weapons like finger laser or his rear machine gun, so the gameplay is rather difficult.
Between bosses, the player will deal with the Sphinx, Denkou, Atlas and Pluto who is the final boss of the game.
Trivia
Uran can be summoned with a special item and she'll appear giving healing items or invincibility.
Higeoyagi and Skunk are also present in the stage 2.
Denkou is not invisible all times and he often keep flying and launching energy beams.
Atlas appears in his child version from the 1980 series and is the penultemate boss.
Pluto doesn't have dialogue with Atom and Uran is kidnapped by the Sultan.
The creator of Pluto, Dr. Abullah, doesn't appear.